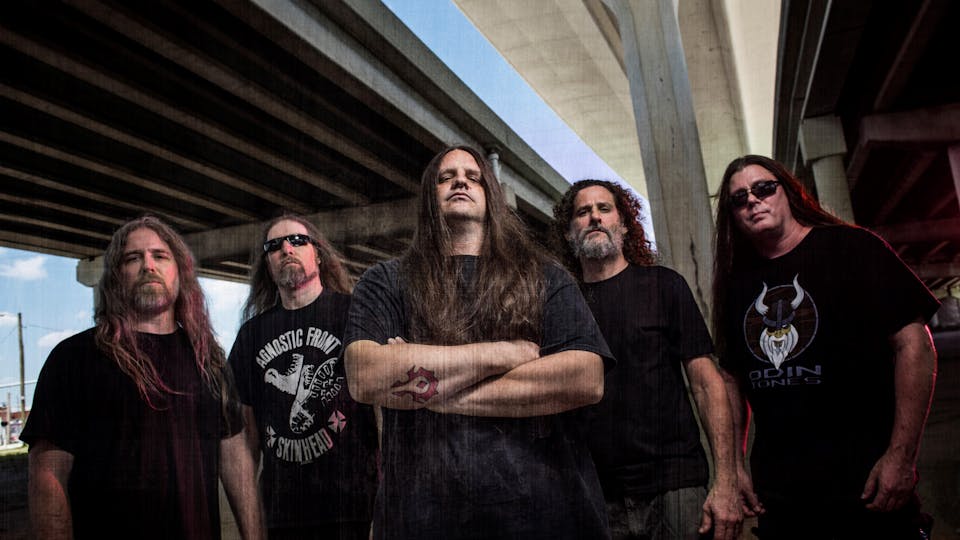 Cannibal Corpse
Thy Art Is Murder, Perdition Temple, Unmerciful
$26.50 - $30.00
Sales Ended
Cannibal Corpse with Thy Art Is Murder, Perdition Temple & UNMERCIFUL in Kansas City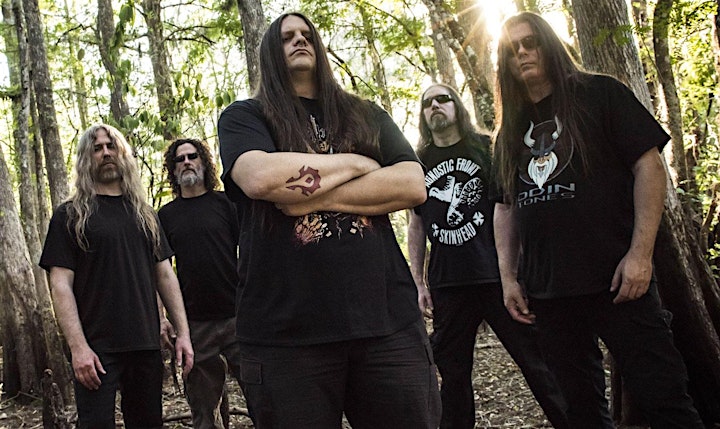 Cannibal Corpse
Website | Facebook | Twitter | Instagram
Many words come to mind when you hear the name Cannibal Corpse, but one truly defines the soon-to-be thirty-year death metal veterans: Unstoppable. Returning with their 14th full-length, the monstrous Red Before Black, serves to not only reiterate this but to once more raise the stakes, making it very clear who sets the standard when it comes to always compelling music that is equally brutal and complex. Moreover, the band have pushed themselves again, ensuring that it stands out from their catalog. "Throughout our career we've tried to improve the precision of both our musical execution and our album production, while still maintaining full-on aggression. 'Red Before Black' continues in that direction, but might go even further on the aggressive side of things. It's definitely precise, but it has a rawness to it that goes beyond anything we've done recently," asserts bassist Alex Webster. "We really worked super hard crafting these songs, practicing them, and getting them where we wanted to be more so than on any of our previous albums," adds drummer Paul Mazurkiewicz. "And as Alex said, musically I think it's the most raw sound we've had – and at the same time I think it's our most focused, tightest and catchiest record."
Having played in the region of two hundred shows around the globe in support of the titanic A Skeletal Domain, the quintet – rounded out by guitarists Rob Barrett and Pat O'Brien, and vocalist George "Corpsegrinder" Fisher – settled down to begin writing after completing their successful run on 2016's Summer Slaughter tour. As has always been the case, there was no blueprint for what they wanted the full-length to be, rather letting it develop naturally with instruments in their hands. "Towards the end of the 'A Skeletal Domain' cycle we did talk about having some riffs that breathe a little more, but that was about it. When everybody started writing I believe it actually became a feel thing more than it ever has been with us," says Mazurkiewicz. "That it wound up being a really raw, mostly straightforward kind of album wasn't part of a big plan or anything," Webster asserts. "We just tried to write the best songs we could, and this is how they turned out." The aforementioned aggression, rawness and catchiness leap out from the speaker as soon as the listener hits play, "Only One Will Die" perhaps the most ruthless yet immediate album opener 2017 has seen. What follows is a relentless barrage of ferocious music that maintains the insanely high standards the unit have long held themselves to, and while there is a great diversity in dynamics there is never a let up in intensity. The devastating "Firestorm Vengeance", for instance, sounds like the work of men only the most foolhardy would choose to mess with, likewise the title track and ultra-belligerent "Destroyed Without A Trace". The vile, lurching passages of "Code Of The Slashers" play menacingly off against bloodthirsty thrashings, while "Scavenger Consuming Death" stands out as one of the heaviest additions to one of the weightiest catalogs in extreme music. With "Remaimed" – penned by O'Brien – unleashing some sickening tones that sound wrought from an instrument designed to devastate everything and the eerie droning breaking into "Hideous Ichor", new flavors have been introduced to their sonic palette this time out. "We're always looking for ways to move our sound forward while maintaining the style we've developed over the years," Webster states. "I think we managed to do that with 'Red Before Black' – it has some new ideas, but you'll also hear things on this album that would sound at home on our earlier releases. We want to grow as a band while staying true to our roots".
With 2006's Kill and the two releases that followed it – 2009's Evisceration Plague and 2012's Torture – the band forged a tight bond with renowned producer Erik Rutan (Hate Eternal, Goatwhore), and for Red Before Black they chose to reunite with him. Comfortable and confident in his company, Webster asserts that "he understands death metal better than just about anyone, both as a producer and as a musician", and with his Mana Studios located not far from their home base in Florida it was also very convenient for one of the hardest touring bands in metal. "We of course love working with Erik and he did an awesome job on the albums he did for us, but we just finished a long tour cycle and then worked extremely hard on writing and practicing these songs, so being close to home for the recording was a compelling factor too," says Mazurkiewicz. "These days, we don't all have to be there for the whole process any more, but if one of us was needed at the studio we could get there fairly quick." Under Rutan's watchful eye the sessions went smoothly and without a hitch, the only thing slowing them down being the attention to detail exercised by all involved, intent on perfecting their vision. With Vince Locke once more handling the artwork, fans can be assured that it suitably reflects the music lurking behind it. "Vince's style has been a huge part of our band's visual image since our very first album. With 'Red Before Black' he's made another killer piece, and this time the viewer has the victim's perspective, which is a little different for us."
With 2017 seeing a slew of stunning new releases from death metal's old guard – including Suffocation, Obituary and Dying Fetus – it's been a landmark year both for the genre and its early innovators, and with Red Before Black Cannibal Corpse stand strong alongside their peers. "We're proud to be part of a scene that has great, experienced bands that stick to their guns," affirms Webster. "Death metal is an established form of underground music that's here to stay, and the leadership bands like these have shown by staying true to the genre is no doubt part of the reason it has such longevity." That Cannibal Corpse have carved out a career spanning almost three decades is testament to their work ethic, innovative songwriting, passion and devotion to extreme music – though it still remains an astounding feat to the members, as Webster makes humbly clear. "Who could have imagined this? When we started, even Black Sabbath hadn't been around for three decades. There simply was no precedent for a lifelong career in metal, of any kind, let alone a relatively new form like death metal. We've been unbelievably lucky, and we are so grateful to our fans for making it possible." In typically grounded fashion, they continue to forge ahead, seeing no end in sight, Webster stating he likes to think they have yet to write their best record, while Mazurkiewicz outlines their goals: "I would say we just want to keep it going, try to better ourselves – and finally open for Slayer!"
---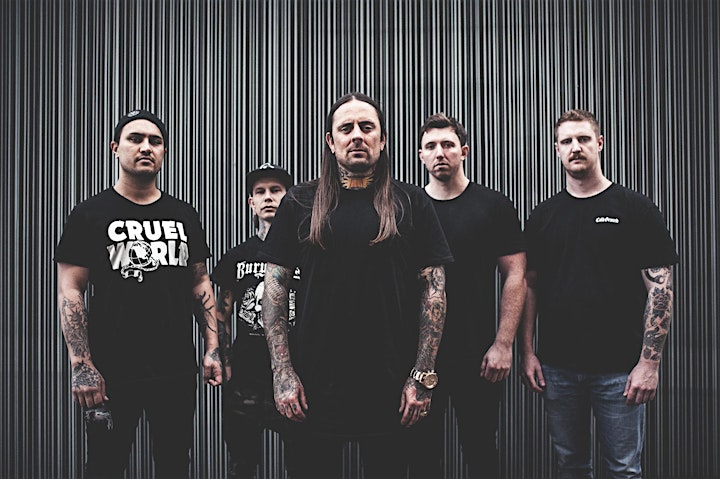 Thy Art Is Murder
Website | Facebook | Twitter | Instagram
Privatized prisons enforce police states, where nonviolent offenders languish for decades. Pharmaceuticals numb the mind. Social media distracts the spirit. All while the very planet lurches toward an inevitable climate disaster that will extinguish humanity. The Nightmare of Human Organ Harvesting? That's not a gruesome song title from some forgotten old-school death metal record. It's a headline from the Wall Street Journal.
Against this backdrop of postmodern dystopia, chaos, and confusion, arrives Human Target, the earth-scorching fifth album from extreme metal titans THY ART IS MURDER.
Australia's most brutally alarming cultural export since George Miller's Mad Max franchise makes music that serves as a loud last gasp against the ever-encroaching void. It's a blazing light of nihilistic despondency before the final darkness. Fusing authentic crushing death metal with blackened fury and flashes of knuckle-dragging stomp, THY ART IS MURDER exorcise the pangs of mortality and the pains of socio-political trauma.
It's a reinvigoration and redefinition of a thriving subculture that has earned them a place in the Top 50 Most Popular Metal Bands Right Now, According to the Internet, a list compiled by a popular metal blog (based on worldwide page views) that puts THY ART IS MURDER among Metallica, Slipknot, Slayer, Megadeth, Ghost, and Iron Maiden.
THY ART IS MURDER's thinking-person's blackened death metal has challenged and inspired audiences around the globe, from top-tier genre festivals like Download, Graspop, Hellfest, and Summer Breeze; to high-profile tours supporting Killswitch Engage, Parkway Drive, and Architects; to multiple headlining and co-headlining shows. In their native country, they've charted higher than any other homegrown extreme metal band. They even toured North America with Slayer as part of Rockstar Mayhem.
Guitarist/cofounder Sean Delander, guitarist/lyricist Andy Marsh, singer Chris "CJ" McMahon, and bassist Kevin Butler officially welcome drummer Jesse Beahler (Jungle Rot, Black Crown Initiate, Rings Of Saturn) into the fold with Human Target, who brought a groovy yet technical approach to the proceedings. Marsh and Delander wrote the songs in just a few short weeks, with producer Will Putney once again at the helm.
THY ART IS MURDER continues to rail against the anti-intellectualism and fear of mortality at the heart of some of the worst of public policy. In contrast with their impressive back catalog, no song on Human Target singles out organized religion or the concept of God specifically. The title track is about the practice of organ harvesting in China, where the World Heath Organization found a huge discrepancy in the number of organs volunteered by donors and the number of organs transplanted into the wealthy.
"Make America Hate Again" isn't intended to alienate any of the leftist band's more right leaning audience members; it's an attack against the entire political system, satirizing the expectation that any government will make things "great" for the masses.
"New Gods" is about the role of social media in the mental health epidemic. "Death Squad Anthem" champions the youth who are fed up with the current system. "Atonement" is both a brutal examination concerning the truth of sexual violence, most of which goes unreported, and a literal atonement of sorts for some of the band's less thoughtful lyrics, around the time of the original lineup's formation a dozen years ago.
"Welcome Oblivion," inspired by a line from the late Christopher Hitchens' Mortality, likens humankind to a "cancer" upon the planet. "Eye for an Eye" subversively ascribes a patient vengeance to the earth, an earth that will survive the "cancer" of humanity. "Voyeurs into Death" attacks the surveillance state and for-profit-prisons. "Chemical Christ" is about the religion of addiction, from pharmaceuticals to "smart" phones.
The fifth full-length from THY ART IS MURDER follows the blistering Dear Desolation (2017), which debuted in the Top 100 in the US and Australia's Top 5. They continue along an evolutionary trajectory charted by The Depression Sessions, an unprecedented collaborative album with The Acacia Strain and Fit For An Autopsy. That project arrived after the uncompromising Holy War (2015), Hate (2012), and The Adversary (2010).
A fresh generation of extreme music acolytes and longstanding death metal fans alike enthusiastically endorse the unrelenting aggression and increasing lyrical depth of THY ART IS MURDER. Videos for "Puppet Master," "Holy War," "No Absolution," "The Purest Strain of Hate," "Shadow of Eternal Sin," "They Will Know Another," and "Light Bearer" have accumulated 40 million views, 13 million of them for "Reign of Darkness" alone.
If this is truly the soundtrack to the end of humanity, it's music that should unite and empower extreme metal fans in all corners of the genre. This is underground music for the people, carrying the torch for a primal style that doesn't die. As New Noise declared, "few embrace the feel of the apocalypse so dearly and expertly… THY ART IS MURDER is clearly at the head of the modern death metal pack [and] they are just getting better."
---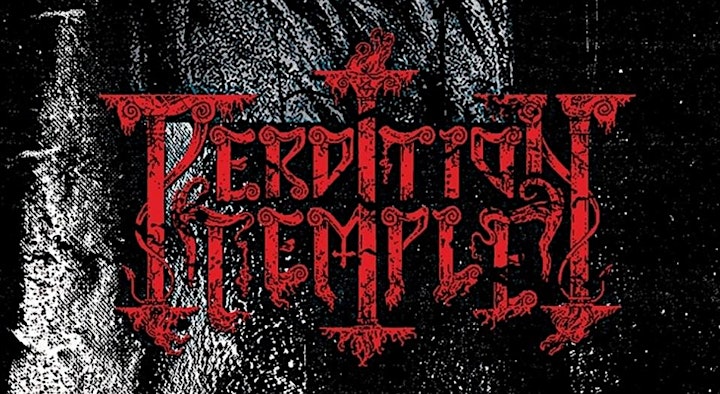 Perdition Temple
PERDITION TEMPLE was formed in 2009 by Gene Palubicki , the same year... The lineup at that time and onward into 2010 consisted of Lefteris Eleftheriou on drums, and Gene on guitars/vocals/bass...this lineup recorded the subsequent debut full length album "Edict of the Antichrist Elect", released in 2010 on Osmose Productions(France)... geographical restraints made it impossible for Lefteris to continue as a permanent member after the albums release... in 2011 Ronnie Parmer became the new drummer, and into 2012 both Gabriel Gozainy on bass, and Bill Taylor on 2nd guitar joined...some select shows ensued throughout the USA in 2012 with a stand in vocalist... in 2013 the band enlisted Impurath of BLACK WITCHERY as vocalist and writing of the sophomore album commenced... during this time additional shows were done whilst the new album was being written during 2013-2014 leading to the completion of 2nd full length album "The Tempter's Victorious" and pre-album 7" "Sovereign of the Desolate"(released Dec 2014), both seeing release on new label Hell's Headbangers Records(USA)..."The Tempter's Victorious" is slated for release between Jan-Mar 2015...
---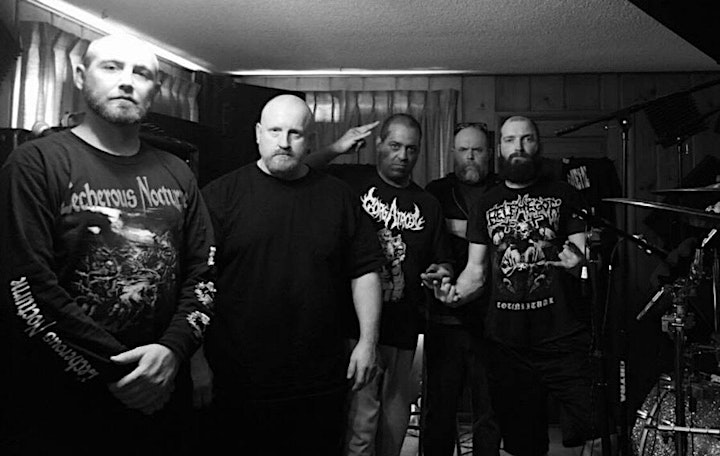 UNMERCIFUL
Founded in 2001, UNMERCIFUL released its debut, "Unmercifully Beaten" in 2006. With intensive tour runs from 2006 through 2009 with the likes of CANNIBAL CORPSE, DYING FETUS, NECROPHAGIST, DECREPIT BIRTH, CRYPTOPSY and more. Through a few lineup changes within the band, it was put to rest for a few years.
The band was on hiatus from 2009 to 2012, then reformed to start writing the follow up album. The band recruited John Longstreth (Origin, Dim Mark, Gorguts, etc.) to record the drum for "Ravenous Impulse," which was a huge growth for the band from the previous album. It was also their last album on Unique Leader Records.
UNMERCIFUL is finishing up the recording for their 3rd album, to be released on Willowtip Records, sometime in early 2020. The new album is darker, faster and more aggressive then anything they have released to date!!
UNMERCIFUL is:
Clint Appelhanz- guitar/vocals
Justin Payne- guitar/vocals
Jeremy Turner- bass/guitar
Trynt Kelly- drums
Jeff Sisson- live vocals
Absolutely no refunds - no exceptions. Lineups and times are subject to change. Any ticket suspected of being purchased for the sole purpose of reselling can be canceled at the discretion of The Truman and/or Eventbrite. Valid government-issued photo ID required for entry to age-restricted events. Tickets available at the door (if not sold out). No re-entry. Physical tickets available at the box office.