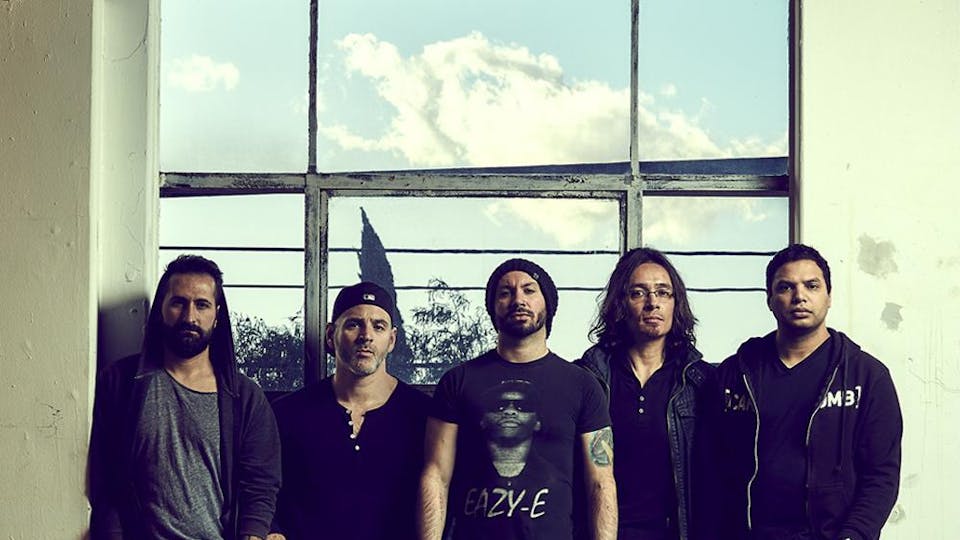 The Noise Presents HAIL STAN: North America 2019
Periphery
$27.50 - $30.00
Sales Ended
The Noise Presents HAIL STAN: North America 2019
Absolutely no refunds - no exceptions. Lineups and times are subject to change. Any ticket suspected of being purchased for the sole purpose of reselling can be canceled at the discretion of The Truman and/or Eventbrite. Valid government-issued photo ID required for entry to age-restricted events. Tickets available at the door (if not sold out). No re-entry. Physical tickets available at the box office.
PERIPHERY:
Periphery represents the vanguard of addictive, chaotic, challenging and cathartically inviting heavy music for the modern era. The triple-guitar attack and rhythmic dexterity of Periphery has won them devoted adherents across underground subcultures, regardless of whether those fans were weaned on the passion-fueled sounds of the Vans Warped Tour or the progressive rock of Rush.
A clear contender for "Breakthrough Band" at Metal Hammer's 2013 Golden Gods Awards and frequent tourmates of Meshuggah, Dream Theater, The Dillinger Escape Plan, Animals As Leaders and other ultra-shred-happy friends and contemporaries from across the spectrum of loud rock, Periphery have earned their reputation onstage and off through a combination of undeniable chops and upbeat charisma.
The Clear EP represents the sum total of Periphery's unrivaled achievement and the promise of what's to come courtesy of seven tracks most bands would be extremely grateful to see comprise a full LP. Periphery II: This Time Its Personal made Guitar World's 2012 "Best Of" list. Clear is undoubtedly destined to turn heads, as well.
Born in an era where cookie-cutter musical constructs and fame-driven scene pretenders dominated the album and touring landscape, Periphery immediately rose to the fore with their dedication to unique artistry, musicianship and melody. The band steadfastly refuses to submit to the humorlessness that often plagues metal, particularly metal bands whose players possess such massive skill. They've put serious focus on their music, enabling them to share a laugh in presentation.
"Icarus Lives!," "Make Total Destroy," "Scarlet" and like-minded Periphery jams have racked up millions of YouTube views and digital downloads, inspired massive amounts of air-guitar and air-drumming in clubs and theatres around the world and driven attention to the band's instant genre-classic pair of full-length albums. Periphery and Periphery II: This Time It's Personal galvanized a new generation of heavy music fans, many of whom have been as likely to scramble for guitar tabs to decode the inscrutable polyrhythms as they are to bruise themselves in the moshpit.
Initially the brainchild of producer, solo artist and Guitar World cover star Misha Mansoor, the Washington D.C. based musical collective has since grown into a wild beast that belonging to their fiercely dedicated group of fans as much as to the band. Mansoor is joined by fellow axe wizards Jake Bowen and Mark Holcomb; viciously proficient bass slinger and production minded maestro Adam "Nolly" Getgood; monstrous SickDrummer.com staple Matt Halpern; and Spencer Sotelo, who singularly manages to make heads or tails of Periphery's mindboggling music, inviting newcomers into the band's world via counter-intuitively catchy vocals.
The broader populace is joining the party, too. Periphery debuted at #2 on Billboard's "Heatseekers" chart, with the follow-up album breaking into Billboard's Top 50 just two years later. Periphery II: This Time It's Personal introduced Holcomb and Getgood to the world at large and boasted guest appearances from Dream Theater co-founder John Petrucci, English guitar virtuoso and YouTube star Guthrie Govan (The Aristocrats, ex-Asia) and labelmate Wes Hauch (The Faceless).
Like "The Big 4" of Thrash, the Floridian death metal merchants, early Metalcore pioneers, mathcore inventors and deathcore standard bearers, Periphery's influence is so pervasive that they are often identified as the singularly most important band in the "djent" subgenre. The group has taken this distinction in humorous stride (see "Djent Reznor"; "League of Extraordinary Djentlemen"; etc.), but to saddle them with one particular genre description would be a great disservice to all Periphery has to offer. Boundary pushing experimentalism, nuanced mathematical cacophony and complex grooves that are alternately engaging and innovative are just the tip of the iceberg for the six-piece monstrosity, who are truly only now getting started.
VEIL OF MAYA:
Underneath a maelstrom of polyrhythmic guitars, sweeping vocals, and shuddering beats, Veil of Maya encode a ponderous narrative at the core of their sixth full-length album, False Idol [Sumerian Records]. This time around, a captivating concept drives the quartet—Marc Okubo [guitar], Sam Applebaum [drums], Danny Hauser [bass], and Lukas Magyar [vocals].
"The whole album is told from a first-person perspective," Lukas explains. "You're following this character who's not the nicest man. He rises to power though. You'll have to listen in order to find out how it ends. The storyline is very dark."
"It felt more like we were making a movie or a TV series," adds Marc. "Lukas actually had a storyboard idea that we talked about before even starting. It's almost like we were providing the soundtrack in Veil of Maya's template."
The seeds for this widescreen ambition can be traced back to 2015's Matriarch. The album bowed at #2 on the Billboard US Hard Rock Chart and spawned the band's biggest hit to date, "Mikasa"—which racked up over 5.2 million YouTube views and 5.1 million Spotify streams. Meanwhile, "Leeloo," "Ellie," and "Aeris" each cracked the 1-million mark on Spotify. Matriarch earned acclaim from Billboard, Alternative Press, New Noise Magazine, and more as the guys hit the road with the likes of Animals As Leaders, Upon A Burning Body, Volumes, Chelsea Grin, Oceans Ate Alaska, and other heavy hitters in addition to a stint on the Vans Warped Tour. Late 2016 saw the musicians head to Los Angeles in order to record what would become False Idol. Marc worked with producer Max Schad in one studio, while Lukas teamed with vocal producer Brandon Paddock in another.
"Two studios working at the same time was a new approach for us," continues Marc. "In the past, we completed all of the instrumentals for Lukas to marinate on. Everything was done by the time he joined the band. This is the first time we got to write with his voice in mind. Another change, he was writing on the spot. It brought a different energy and ended up really cool. Max made a big difference too."
That difference stands out in Veil of Maya's marked sonic evolution. Every element is amplified: it's heavier, it's more hypnotic, and it hits even harder.
"The overall vibe is darker and heavier," reveals Lukas. "with the story, the demeanor got pretty sinister. That's an element that I don't think anybody was expecting."
The first single "Overthrow" revs up from a crushing tidal wave of riffing into a soaring and striking clean refrain. It taps into the expansive energy of signature fan favorites, while elevating the group to a new level.
"It's got some of that 'Mikasa' spirit," smiles Marc. "We thought that couldn't hurt!"
"We show references to the beginning of the main character's life at this point in terms of the content," says Lukas. "It was a more compelling way to tell the story. All of the songs stand alone. They represent their own pieces of the story."
Whether it's the pulverizing power of "Overthrow" and "Doublespeak" or knockout send-off of "Tyrant" and "Livestream," False Idol exorcises an unforgettable narrative in the landscape of Veil of Maya's most definitive work to date.
"We wanted to create something refreshing," Lukas leaves off. "We didn't recycle the same old thing. It's a new beginning."
"I hope the record is something people want to go back to and study again," concludes Marc. "It's worth more than one listen."
COVET:
Covet is an instrumental Math/Prog - Rock band from San Francisco, CA. The group was formed in 2014 and released their first EP in 2015.