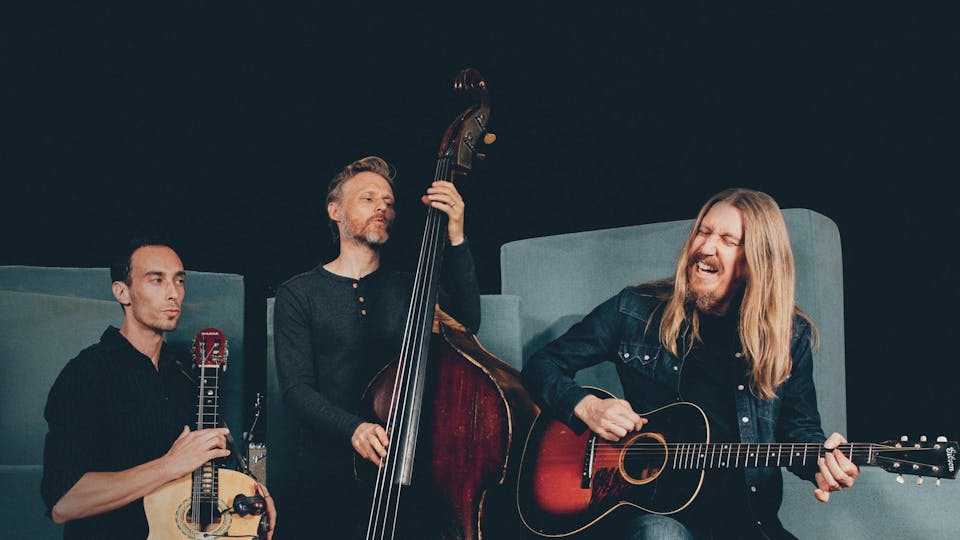 Presented by 90.9 The Bridge
The Wood Brothers
Nicole Atkins
$26.00 - $29.00
Sales Ended
90.9 The Bridge Presents The Wood Brothers w/ Nicole Atkins in Kansas City
The Wood Brothers have partnered with Thistle Farms so that $1 from every ticket sold will go towards helping women survivors recover and heal from trafficking, prostitution, and addiction. Thistle Farms is a nonprofit social enterprise based in Nashville, TN, providing a safe place to live, a meaningful job, and a lifelong sisterhood of support. For more info, visit their website HERE.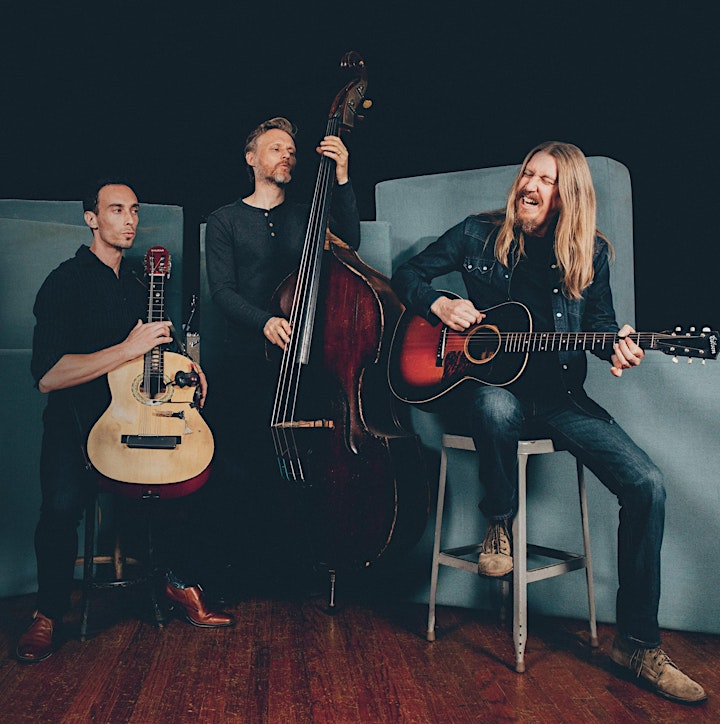 The Wood Brothers
Website | Facebook | Twitter | Instagram
It's the freest album we've done, the most independent album we've done, and was the most fun we've ever had making a record," says Oliver Wood. "And most importantly, this is the most purely Wood Brothers' album we've ever made."
Indeed, The Wood Brothers' sixth outing, 'One Drop of Truth,' dives headfirst into a deep wellspring of sounds, styles and influences. Whereas their previous outings have often followed a conceptual and sonic through-line, here the long-standing trio featuring brothers Oliver and Chris Wood along with Jano Rix treat each song as if it were its own short film. The plaintive, country-folk of the album's opening track "River Takes The Town" gives way to the The Band-esque Americana soul of "Happiness Jones." The wistful ballad "Strange As It Seems" floats on a cloud of stream of consciousness, standing in stark contrast to "Sky High"—a Saturday night barnburner built upon stinging slide guitar funk. "Seasick Emotions" is rife with turmoil, yet "Sparking Wine" is jaunty and carefree. The end result is undeniably The Wood Brothers' most dynamic recording to date.
"Often, when you're making an album in the traditional way, there will be a unifying concept, whether that be in the approach to the music stylistically or lyrically in terms over the overall narrative. And even though there are some themes that revealed themselves later, this one is all over the place," explains Oliver Wood. "What I really love about this record is that each one of these songs has its own little world. There are diver-se sounds and vibes from one track to the next."
Building off the success of their previous studio album, 2015's 'Paradise,' which was dubbed "the warmest, most sublime and occasionally rowdiest Wood Brothers release yet," by American Songwriter, the band found themselves at a fortuitous crossroads. Following a tour with Tedeschi Trucks Ba­­­­­nd, high profile festival dates and sold out headline shows, the band felt free from the cyclical album release, tour, write, record and do-it-all-over-again pressures of the traditional music business. With all three members living in Nashville affording easy access to each other and a wealth of local independent studios at their disposal, they started work in January of 2017 with a new approach.
"Instead of going into one studio and recording it all at the same time, we picked a couple studios, and started to experiment," says Chris Wood. "Sometimes we'd just make demos of songs to see if we got anything we liked. There was no pressure, and that really freed us up. We just did one or two songs a day, put it aside, let the songs simmer, and then we'd have a fresh perspective on what was working or not working. You need time to go by to gain objectivity."
The band extended this approach to the mixing process, sending tracks to four different mixing engineers, each selected based on what the song demanded. Scotty Hard (who's worked extensively with Medeski Martin & Wood, among others) was recruited for the "edgier, funkier tunes," "Sky High" and "Happiness Jones." Mike Poole (who worked on The Wood Brothers album 'The Muse') mixed "Sparkling Wine" and "Strange As It Seems." Their old friend Brandon Belle from Zac Brown's studio Southern Ground took on "Laughin' Or Crying." The remainder of the album was mixed by Grammy Award-winning engineer Trina Shoemaker, especially sought after by The Wood Brothers for her work with Brandi Carlile.
While the songs on 'One Drop of Truth' achieve the goal of standing on their own, a few common themes did, inevitably, emerge. Water—whether in a teardrop, a storm, a river or a libation—was being used as a metaphor in the search for truth and happiness. Chris Wood's "Seasick Emotion," one of two songs he sings on the collection serves as a prime example: "All the blue sky is gone / How can I get out of bed / This hurricane in my head / I'm just a boat in a storm / How can I know where to go / When everything that I know / Is already lost in the wind."
"That one was written last fall during a hurricane, while at the same time the election was coming up, and there was all this crazy energy in the world," Chris reveals. "I definitely got swept away emotionally by everything that was going on."
Album opener, "River Takes the Town," takes on both figurative and literal meaning. It was completed just as a series of hurricanes were decimating parts of the U.S.: "It's been a few days since I heard any word from you / and I don't sleep easy, I don't sleep easy / and the rain keeps comin', the rain keeps comin' / nothin's ever for certain / 'til the levee breaks down / the water comes in and the river / the river takes the town."
"I remember hearing a news story about a flood in Shreveport, and I wrote the line 'I hope the levee in Shreveport does what it's supposed to do,'" explains Oliver. "I was writing literally, at first, about how scary it must be when people lose power and communication with those they love. But then the lyrics became a metaphor for something more interpersonal. And by the end of this summer, it seemed to take on new meaning yet again."
Though emotional struggle is a recurring thread, so is the comforting truth of how much wisdom comes from the hard times. The song "Happiness Jones", was based on a news article Oliver read about how our society is addicted to happiness, antidepressants, and the distorted "happy" reality social media can depict. As a result, people feel like it's unnatural to be sad, yet. sadness can be a gift: "All of my wisdom came from all the toughest days / I never learned a thing bein' happy / all of my sufferin' came / I didn't appreciate it / I never learned a thing being happy."
While the majority of 'One Drop of Truth' was written and recorded as a group, the standout track "Strange As It Seems," described by Chris as, "a classic Oliver song," was an exception.
"I had recorded it a couple months before Chris and Jano added their parts, so I was excited to see what they would do with it. We talked a lot about it having a dreamlike quality to it. Chris has all these cool sound effects that he can make with the bowed bass, and then Jano played the melodica and the piano on it, and they added exactly the atmosphere that it needed," explains Oliver. "Conceptually, I almost think of it like a Tim Burton movie, where you go to sleep, and you go into this dream world, to meet your lover, but you do so with purpose. You bring your wallet, you get dressed up, you're going on a date. The idea being, that you rendezvous in the dream. One of my favorite things about any song is ambiguity, leaving it open to interpretation. Maybe the man and woman in this song are already married, and they're on separate sides of the bed, and they're disconnected, so they're hoping to find a better version of a partner in their dreams. Or, maybe they are two lonely people, in separate places, finding each other in this dreamworld. But at the end of the song, the guy wakes up, and he goes down to the kitchen, and he's with his wife and it's a beautiful thing, and they dance in the light. So perhaps there's also an element of hope, whether they're lonely, or they're disconnected, there's still a connection there, sometimes you have to go to that other level to realize it."
Fittingly titled, 'One Drop of Truth,' the latest entry in The Wood Brothers evolution finds three musicians being true to themselves. At a point in their career where most artists would be looking to strategically position themselves for even greater commercial success, they instead turned to artistic expression in service of the muse. In chaotic times when honesty is in short supply and ulterior motives seem to always be at play, The Wood Brothers put faith in themselves and ultimately their audience by writing and recording a collection of songs that is honest and pure. As they sing on the album's title track: "Rather die hungry / than feasting on lies / Give me one drop of truth / I cannot deny."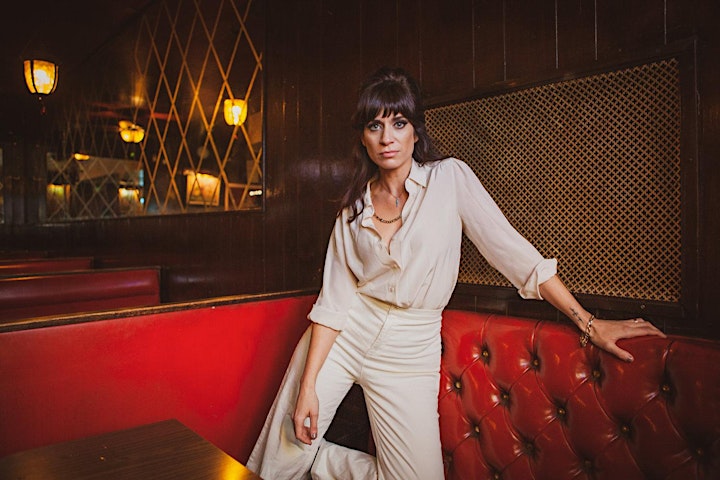 Nicole Atkins
Website | Facebook | Twitter | Instagram
To borrow a phrase from heaven's new poet laureate, Leonard Cohen, Nicole Atkins was "born with the gift of a golden voice." But somewhere along the way she misplaced it. Goodnight Rhonda Lee is the story of Nicole finding her voice, and how, in doing so, she went a little crazy.
Great Art is born of struggle and Nicole was struggling. The problem was that she felt nothing. Her fans responded to her performances with the same fervor they always had, but Nicole felt nothing. Her new husband loved her and doted on her, but she felt nothing. She traced it back to her drinking and decided to try to learn to live without booze. But that first day of sobriety brought with it an unexpected additional test -- Nicole's dad was diagnosed with lung cancer. This Jersey girl, whose big voice was tethered to a big heart, and whose reaction to the mundane setbacks of everyday life had always been equally overblown, suddenly faced a real problem. "It toughened me up," she says.
And the songs started to come. Little bursts of therapeutic creativity. Thorny feelings transubstantiated into melodies. Beginning with "Listen Up," a wake-up call to a lucky girl who hadn't realized how lucky she'd been, Nicole started to find her redemption in these songs. They rang true in a way no songs ever had before. They came from a deep, vulnerable place. If Nicole had been living an unexamined life, she wasn't anymore.
She needed her newfound toughness though, as in the midst of all this turmoil, she prepared to move from her native Asbury Park to Nashville. Having spent more than a decade as the de facto queen of Asbury, Nicole was finally leaving the warm, but often stifling confines of her hometown. During one of her final nights before the exodus, a song came to her in a dream. "I Love Living Here Even When I Don't" summed up the complicated feelings she experienced as she said goodbye to the only real home she'd ever known.
In Nashville, Nicole's once hectic life was very different. Left home alone as her tour manager husband plied his trade out on the road, Nicole found herself writing songs that examined "feelings of separation and being scared of new surroundings." In particular, the songs "Sleepwalking" and "Darkness Falls" echo like ghosts through an empty house.
Unsurprisingly, her sobriety faltered. She drifted in and out of it. Nicole knew the wagon was good for her, but she had a hard time staying focused on what was good for her. As it went on however, the clarity of those sober days started to shine through. And she was able to string them together in longer stretches. For the first time, she was able to offer a shoulder for others to lean on, rather than always being the one in need of a shoulder. It helped that she had to be strong for herself in order to be strong for her dad. Much of what she was feeling was painful, but it beat the hell out of feeling nothing.
She reconnected with her old friend Chris Isaak who encouraged her, in the midst of all the soul- searching and soul-baring, to write songs that emphasized the one trait that most sets her apart from the mere mortals of the industry, telling her, "Atkins, you have a very special thing in your voice that a lot of people can't or don't do. You need to stop shying away from that thing and let people hear it." To that end, the two of them collaborated on Goodnight Rhonda Lee's standout track, the instant classic, "A Little Crazy."
Great Art is a journey -- and Nicole Atkins traveled quite a distance to bring us Goodnight Rhonda Lee. As Nicole explains it, "This record came to me at a time of deep transition. Some days were good, some not so good. What I did gain, though, from starting to make some changes and going inward, and putting it out on the table, was a joy in what I do again. Joy in the process and a newfound confidence that I don't think I've ever had until now. The album title, Goodnight Rhonda Lee, also came from those feelings. Rhonda Lee was kind of my alias for bad behavior, and it was time to put that persona to bed."
The direction in which these songs were headed was obvious. Nicole's voice had always recalled a classic vinyl collection. She is the heir to the legacy of "Roy Orbison, Lee Hazelwood, Sinatra, Aretha, Carole King, Candi Staton." She is untethered to decade or movement or the whim of the hipster elite.
In order to capture the timelessness she sought, Nicole enlisted a modern day Wrecking Crew: Niles City Sound in Fort Worth, TX, who had just risen to national acclaim as Leon Bridges' secret weapon. "We spoke the same language. We wanted to make something classic, something that had an atmosphere and a mood of romance and triumph and strength and soul." The album was recorded in five days, live to tape. The album that Nicole and the boys came up with in those five days, Goodnight Rhonda Lee, is nothing less than Great Art and a quantum leap forward for Nicole Atkins who, no matter how much she grows up, will always be a little crazy.
---
Absolutely no refunds - no exceptions. Lineups and times are subject to change. Any ticket suspected of being purchased for the sole purpose of reselling can be canceled at the discretion of The Truman and/or Eventbrite. Valid government-issued photo ID required for entry to age-restricted events. Tickets available at the door (if not sold out). No re-entry. Physical tickets available at the box office.