Special Events
Host your event at the Truman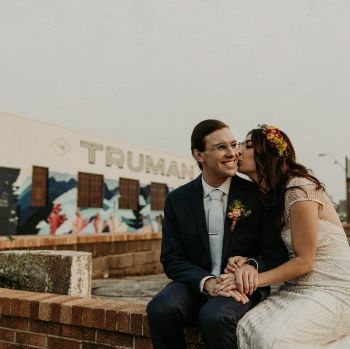 Experience industrial chic while enjoying the convenience of modern amenities. Originally built in the 1930s, The Truman features a large main hall, separate bar & lounge at the main entrance, open air patio, and second story VIP area that overlooks the main room and stage while offering views of downtown Kansas City. The Truman can accommodate charity events, concerts, trade shows, weddings, corporate conferences & more.
With a standing room capacity of 1,200 and over 10,000 sq ft, The Truman can entertain parties of up to 264 in formal banquet seating and 420 in a theater arrangement. The versatile, open floor design is accented with a lofty steel beam ceiling and stunning polished bars your guests will love.
For pricing or more info, contact us through the link below.
FAQs
We are a non-profit looking to host our event at The Truman. Are you offering discounts?

We strive to help non-profits in the Kansas City community. Each quarter, The Truman will choose a 501c3 for a discounted rate. For an application, please email events@thetrumankc.com.

How long do we have at the venue to set up and tear down for an event?

The facility fee provides exclusivity to client for up to 12 consecutive hours on event day, including set up and tear down. Any additional time spent in the venue will result in a $250.00 hourly charge. Set up and tear down must take place on the rental date only.

How do we secure our date?

A signed contract and $2000 deposit is required to secure your date. However, a signed contract and deposit does not necessarily guarantee a secured date if there are prior holds on the date to be challenged.

What if unforeseen circumstances happen and we need to cancel our date?

If The Truman receives a cancellation notification 60 days prior to event date, all payments – with the exception of the $2000 deposit – will be refunded. If the cancellation notification is received between 30 and 60 days, all deposits and payments are non- refundable. If a cancellation occurs within 30 days of the event, all remaining payments are due to The Truman. All cancellations must be made in writing to The Truman.

Do I need an event planner?

We require a professional event planner for wedding ceremonies and receptions. Planner may not be directly related to bridal party. All communication from client will be facilitated through planner. Our Events Director will work closely with your planner to ensure the smooth execution of your event.

Do I need to purchase liability insurance?

Client will be held liable for any physical damages, legal actions, and/or loss of reputation or business opportunities that Owner may incur as a consequence of the actions of Client or any of Client's guests while Client is in control of the venue, and shall indemnify and hold harmless the Owner against any and all legal actions which may arise from Client's use of the venue. Keep in mind that the venue and vendor insurance liability does not include you as an 'insured party'. In order to protect yourself each client shall carry general public liability insurance, and to indemnify The Truman which shall be named as an additional insured for the duration of this contract. This is available from your local insurance agent.
All clients and non-exclusive vendors must provide a limited liability insurance certificate naming JR Facility Management as additional insured for a policy no less than $1,000,000.00. This is due 14 days prior to event. No client or vendors will be allowed to execute their services without this certificate. You may purchase a liability event day insurance certificate from your local insurance agent or an online source.

Are there any limitations to décor / set up?

All décor must be approved prior to your event date. Vendor lists, event insurance, vendor insurance and all setup information must be provided to The Truman's Event Director. The Truman requires the following details 14 days prior to event date: all set up and break down, deliveries, requests, audio visual and electrical needs, event layout, and production. We do not allow: glow sticks, confetti, fireworks, glitter, open flames or birdseed. We do not allow "rave" events.

Where will my guests park?

Your guests may use available street parking spots located next to the building on Cherry. Other transportation services such as valet, shuttle, and bus are allowed.

What if I am interested in booking this venue but not yet ready to put down my contract and deposit?

You may place a non-binding 'hold' on an unsecured date with our Events Director. As other inquiries are made, she will notify you with a right of refusal.

I have another question. Who do I contact?